1. Royal Agricultural Station Angkhang

ภาพจาก Jedsada Kiatpornmongkol/Shutterstockcom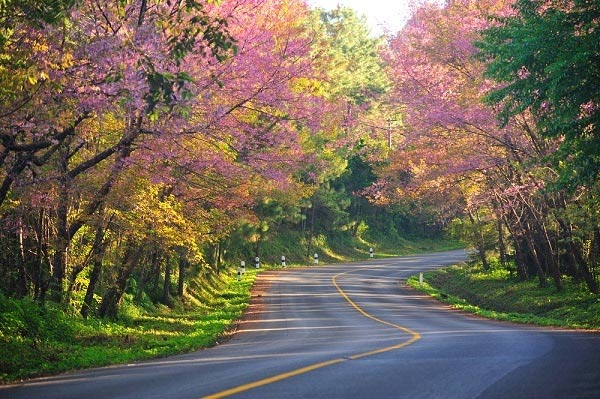 Royal Agricultural Station Angkhang Located in Khum Village, Village No. 5, Mae Ngon Sub-district, Fang District, established in 1969 by His Majesty King Bhumibol Adulyadej His Majesty To be established as a winter fruit tree experiment station And creating a sustainable career for hill tribe people living in the surrounding area From opium growing areas Resolved to become a place to grow vegetables - fruit in the winter. And the best tourist destinations in Thailand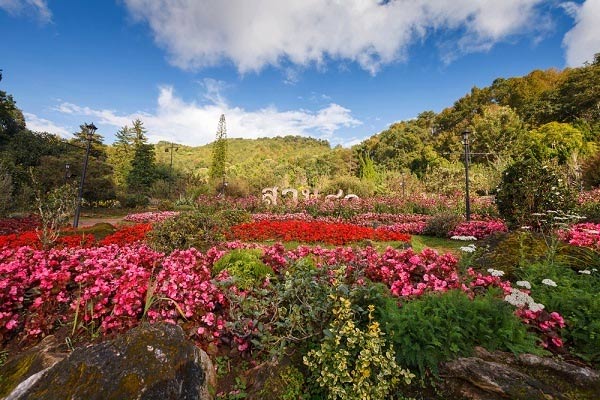 Within the Angkhang Royal Agricultural Station There are many agricultural attractions for tourists to visit. Whether it is a plot of English rose, plum plots, bonsai gardens, strawberry plots, 80th Anniversary Commemoration Park, Kam Doi Park, winter vegetable collection house, Ang Khang tea plantation, fragrant garden etc. In addition, There are also places to visit nearby to visit as well, such as Phra That Doi Ang Khang, Ban Khem Dong, Ban Na Lae, Ban Luang, Ang Khang Base Operating Point, Pine Forest Viewpoint, Tea Plantation 2000 Etc. See details More at angkhangstation.com
2. First Royal Factory at Fang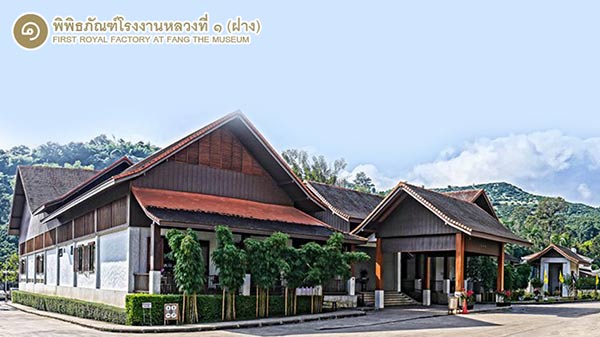 First Royal Factory Museum, located at Ban Yang Village, Mae Ngon Subdistrict, Fang District, is a learning and educational tourism destination for the processed agricultural industry. And is a place to gather and exhibit royal ideas for sustainable development According to the philosophy of the sufficiency economy By establishing in a strange shaped building There is a beautiful garden. Quiet atmosphere Like a learning center in Japan In addition to the knowledge that tourists will go home Was able to come to buy a variety of Doi Kham products here as well
First Royal Factory Museum, Open to visit Tuesday-Sunday from 09.00-17.00 hrs. For more information, please call 0 5305 1021 or firstroyalfactory.or.thand Facebook
3. Ban Yang
Ban Yang community is located in Mae Ngon Subdistrict, Fang District, which is close to the Royal Factory Museum 1, a unique Yunnan Chinese community. Which aside from having a pretty good culture There are many natural attractions. And the atmosphere around the village is quiet. Come to relax It is also one of the most delicious Yunnan Chinese food places in Thailand. In which tourists can taste authentic Yunnan Chinese dishes With both savory dishes and desserts Importantly, the price is not expensive as well. And don't forget to subsidize community products to give to people at home 🙂
4. Fah Hom Pok Mountain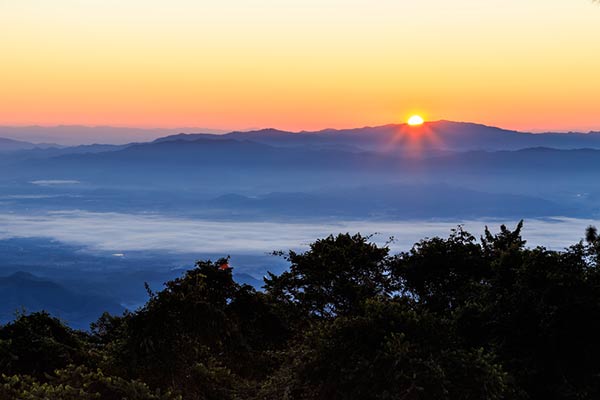 Doi Fah Hom Pok is located in Pong Nam Ron Subdistrict, Fang District, with the characteristic of a high peak. Which has a height of 2,285 meters, classified as the second highest mountain in Thailand. On the top of the mountain is an open field. You can see the sea of ​​mist very beautiful and also see the peak of the small mountains around. View of the road on the ridge It is a beautiful atmosphere like heaven on earth. There is also a tent for tourists to stay overnight. Watching the star sea and morning mist as well. For more information, please contact Doi Fah Hom National Park, tel. 0 5345 3517, 08 4483 4689
5. Fang Hot Spring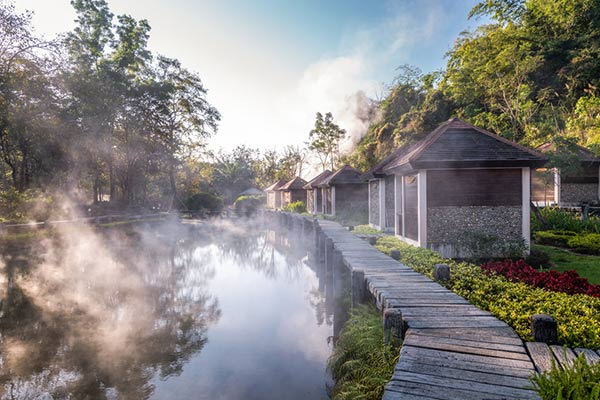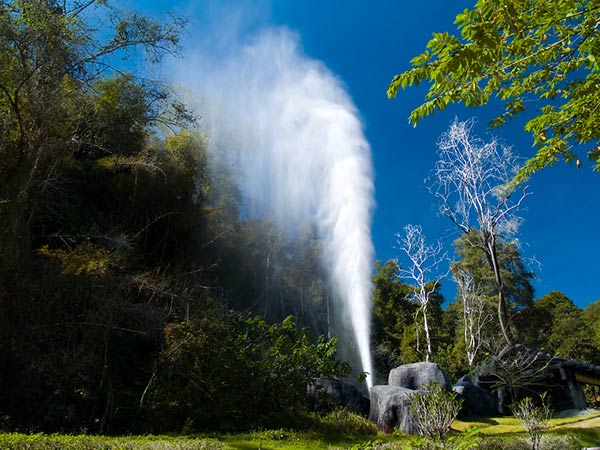 Fang Hot Springs Located in Doi Fah Hom Pok National Park Is a natural hot spring caused by underground heat There is a constant heat stroke. The average temperature is around 40-88 degrees Celsius. There are many ponds on an area of ​​over 10 rai. Bang Bo will have steam rising up to 40-50 meters. The park has prepared an area for tourists to bathe mineral water and Steaming Open everyday For more information, please contact Doi Fah Hom National Park, tel. 0 5345 3517, 08 4483 4689
6. Thanatorn Orange Garden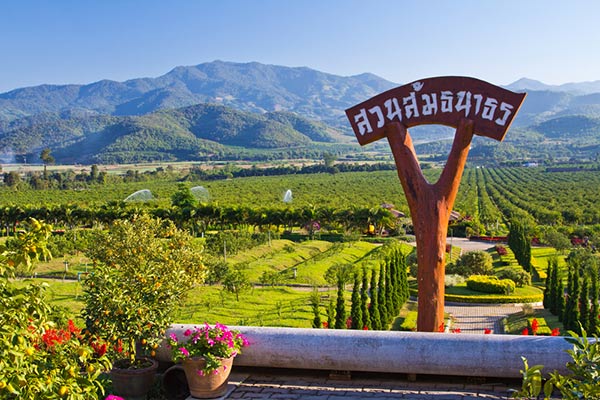 ภาพจาก tipwam / Shutterstock.com
Thanathon Orange Garden is one of the largest honeysuckle orchards in Fang District, founded by Mr Banthoon Chirawattanakun. And now has developed into a tourist attraction Allowing tourists to visit the orange groves. Along with tasting freshly squeezed orange juice. There is also a souvenir shop Which is processed products from oranges for tourists to choose to take home at a reasonable price as well
The Thanathorn orange orchard is open for tourists to visit 2 places: Thanathorn orange orchard 2 (Ban Lan) and Thanathorn orange grove 8 (Tha Ton) for garden tour activities. Tourists can come to visit every day from 08.00-17.00 hrs. Admission is free, with a tour bus fee of 40 baht per person. See more details at tntorchard.com or call 0 5334 6554-6, 0 5388 3392-4, 0 5388 3420-2
7. Pong nam dang waterfall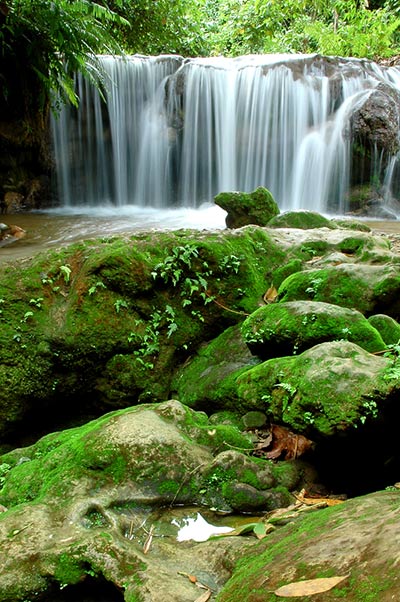 Pong Nam Dang Waterfall Located in the same area as the National Park Protection Unit at Moo 3 (Pong Nam Dang Waterfall), Ban Mae Soon Noi, Mae Soon Subdistrict, Fang District, with a small limestone waterfall. With water flowing all year round The top floor is about 10 meters high. The surrounding area of ​​the waterfall is lush green forest. Cool weather Can visit to breathe fresh air and experience the cool water everyday For more information, please contact Doi Fah Hom National Park, tel. 0 5345 3517, 08 4483 4689
8. Huai Bon Cave

Huay Bon Cave is located in Doi Fah Hom Pok National Park. It is one of the most beautiful medium-sized caves in Thailand. With beautiful stalactites and stalagmites From the entrance of one cave to the mouth of the other cave is approximately 324 meters deep, about 20-30 meters wide, inside the cave are stalactites, stalactites of various sizes. During the rainy season there will be clear, clear water basins. There are also more than 10 small caves, small caves, nearby areas. For more information, please contact Doi Fah Hom Pok National Park, telephone 0 5345 3517, 08 4483 4689.
9. Phra That Kiat Temple Fang Temple

Wat Phra That Chaloem Phrakiat Or Wat Wiang Nang Kham Ei Located at Ban Wiang Wai, Village No. 9, Mon Pin Sub-district, Fang District, is an ancient temple. Created since the reign of King Fang as the ruler of the city (B.C. 2155), there are 5 Phra That Chedi. Currently, there are many interesting things, such as Phra Sri Sakyamuni Mingmongkol Fang, Vihara Phra Pho San Kuan Yin, Shrine of Fellowship, Shrine of the Sun Wukong Goddess (Heng Suw), Shrine of King Naresuan the Great, Shrine of the Goddess Khuei etc. See also More details at wpttechaloem phra that kiat temple fangmple
Wherever you go, you can drive far to Fang District. It must be worth traveling to this district a little. Which all these attractions will truly make you full of Fang District At the end of the rainy and early winter, the weather is good, not many tourists. Accommodation is easy to book and can chill out. 🙂

Note: Information is subject to change. Please double-check the information as of 15 September 2017.
Thanks for the information from


, park.dnp.go.th, firstroyalfactory.or.th, angkhangstation.com, tntorchard.com, kapook.com